February, 2020
On the month of February, MMC was blessed to have Antonio Ulloa for three Sundays, with the messages of  "Spiritual Life Required". On the last Sunday; we celebrated and concluded with a fellowship meal. His teaching and experiences motivated, inspired, and challenged us all.
"Your salvation requires you to turn back to Me and stop your silly efforts to save yourselves. Your strength will come from settling down in complete dependence on Me." Isaiah 30:15
January 11, 2020
On January 11, 2020; we celebrate the 97 birthday for Ruth Rohrer. She has been a great blessing to all of us and we wanted to make it especial that day for her.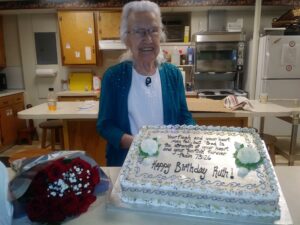 Sabbatical
Wes & Millie's sabbatical will be for 3 months starting on Monday, December 16 (ending Monday, March 16).